Discussion Starter
·
#1
·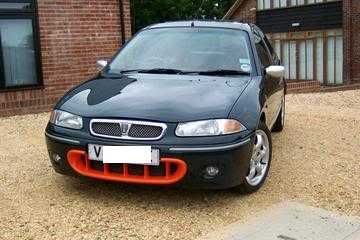 Right, I've decided I can't do a proper project on the car (turbo conversion, flushed tailgate etc appealed but the funds weren't there to do it properly) so it's back up for sale. I don't want to strip it and would like to sell complete. It has sustained minimal damage to the rear (high up) after it was hit in a car park.
It's an easy repair – requiring a tailgate, bumper, minor panel beating to the offside rear wing, tail light (I have spare lights that you can have) and some internal trim bits. It also requires a backbox as I sold that on. I am told that the chassis and boot floor are fine, and the rear panel is only knocked (could be pulled). MOT and tax have expired since the accident in November, and it is on a SORN form so it's all legal.
Airbags and seatbelt pre-tensioners are all fine, and the rest of the car is fine too. Unlike a number of BRMs that I have seen, there isn't rust on the car, and it has been waxoyled in the past (including a top up by me when I bought it). It has also only covered low miles. Everything worked on the car without fault the last time I used it, apart from a glitch with the sunroof (the slide and seal are damaged).
The insurers quoted a low market value without looking at the car and wrote it off on economic grounds. Final settlement was £4000 after they had a look at it so the idiots would have fixed it within budget if they had set a reasonable market value on it in the first place! Not that I'm bitter…
It would be nice if it could be repaired (it is a rare beast after all), but it would also be ideal as a base for a kit car, or worth a few quid in spares (BRM bits are no longer widely available). It will be HPI registered following the accident, but was HPI clear pre-accident, and there is no finance outstanding.
Pre accident condition was very good, and I have owned it since 2003 without any problems (until the accident). It was the best of four cars that I saw when I was looking for one in the first place, and would still be my pride and joy now…
Details follow…
 V registered
 45,200 miles on the clock
 Full history (Rover Main Dealer until the cambelt service that was done less than 2k miles back)
 1800 VVC engine and Torsen differential gearbox
 ABS
 Electric windows, mirrors and sunroof
 Red leather inc seats, steering wheel, centre console insert, red carpet, seatbelts etc. The silver trims are not in the car and have been replaced with wood versions.
 16" Sparkle Silver alloys with SP Sport tyres
 Sparkle Silver exterior trims and mirrors
 V5 (logbook), original service history book and BRM Owners Club numbered certificate all present.
Hopefully, a couple of pics will be uploaded on this post, but I have more pictures available on request. Just let me know if you have any queries or require pics of specific areas.
Ideally I would like the car to be taken complete as quickly as possible. It's up for a bargain £1500 considering the cheapest BRM on Auto Trader in the country at the moment is double that price and with more miles on it. The only car in the country for sale with less miles is up for £4980. Check for yourself…
Offers considered, but I'm after £1500 and there's not much leeway in the price.