Discussion Starter
·
#1
·
Posted this in the ZR section, but could be of use to anyone with an MG I guess!
I recently bought a pair of nice, shiny new red and black badges for my ZR. Got to fitting them this weekend, took some pics to help others who may be unsure how to go about fitting them.
The first stage in fitting new badges is to get the old ones off. Ideally, this needs to be done without damaging the paintwork around the badge. The best way to attack them is with a combination of heat and something stiff to get behind the badge. I used my wife's hairdryer and a plastic picnic knife.
Heat the badge gently, while working the knife behind the badge, working on one side at a time until you can grip the badge with your fingers and pull it off.
This will leave you with a gap where the badge used to be, with some left-over adhesive pad from the old badge;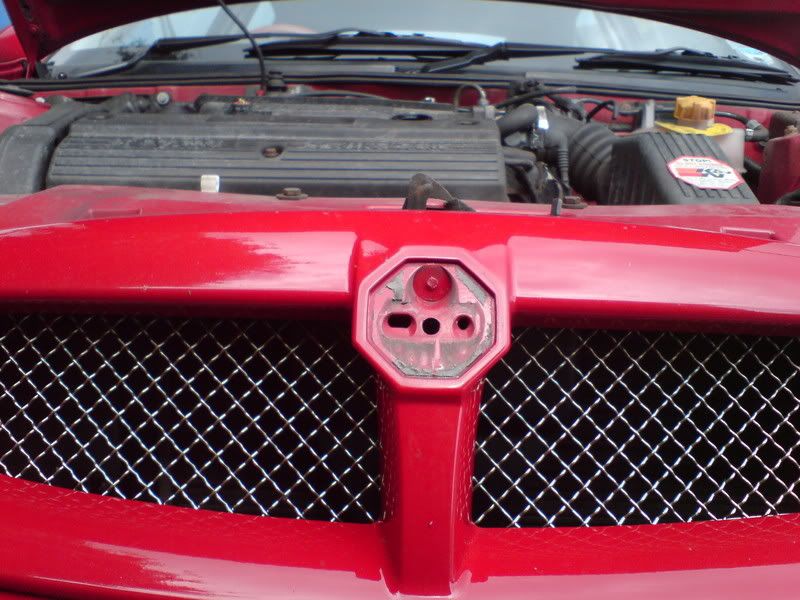 This needs to come off, and what I found worked well was to scrape off the worst with the plastic knife (or a 0.50mm feeler guage, as I stood on my knife and broke it!), and attack the remaining adhesive with some WD-40 and kitchen roll (I used a WD-40 pen, which worked brilliantly!). After cleaning, you should be left with this;
Much better!
Now, to the badges...
When I came to test-fit the new badges, I found that there is a difference between the aftermarket badge and the original badge, in that the bottom of the original badge is slanted to fit into the bodywork, and the replacement isn't; (replacement on left, original on right)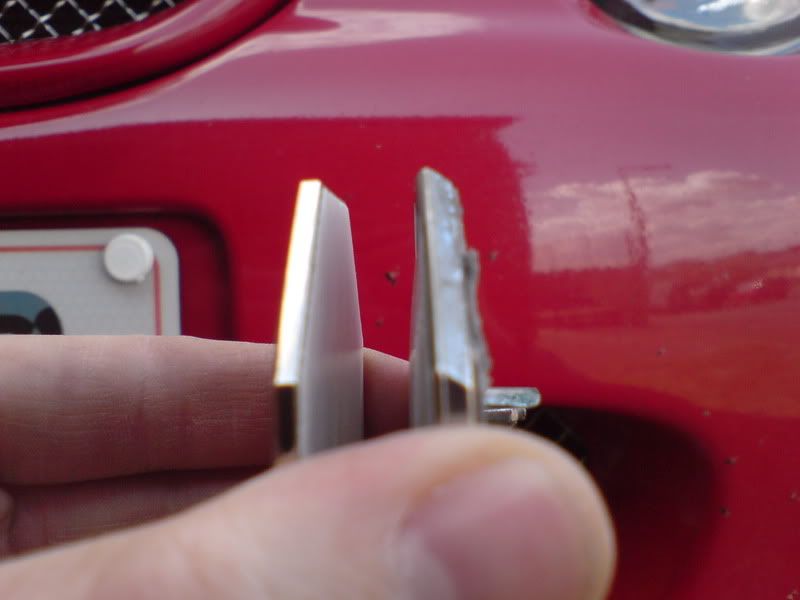 So, to correct this, I carefully filed down the bottom three edges of the octagon at an angle to match the orginal badge. See here the difference between the filed badge and the un-filed badge (both the replacement badges);
The badges file down easily, as they are made primarily of brass so are quite soft compared to the metal file I was using!
Once they are filed down, and you are happy with the fit (keep trying and filing a little bit off until it fits perfectly), it's time to stick them in! :hyper:
Most of the badges come with a self-adhesive pad in the back of them. This is probably adequate, but I chose to add a few small blobs of cyanoacrylate glue (superglue) to the back of the badges to really hold them on! Don't use too much, however, or it will come out around the edges of the badge and look awful up close.
Once they are firmly stuck in, stand back and marvel! :broon: