Desperate times call for desperate measures I'm afriad and I've got to either sell the car or Brake it. So I;m selling her for
£5500.00
The car will come with 12 months MoT but is not SORN and will be on my drive till it sells
Poor pic - will get a better one with it clean!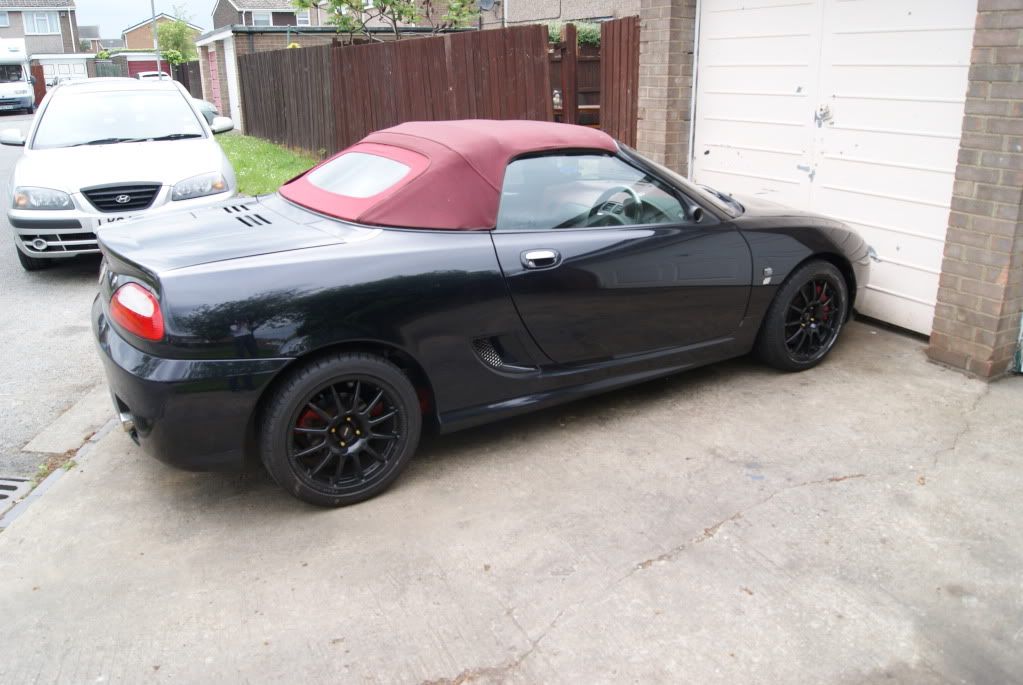 Some of the level of work that went into the build: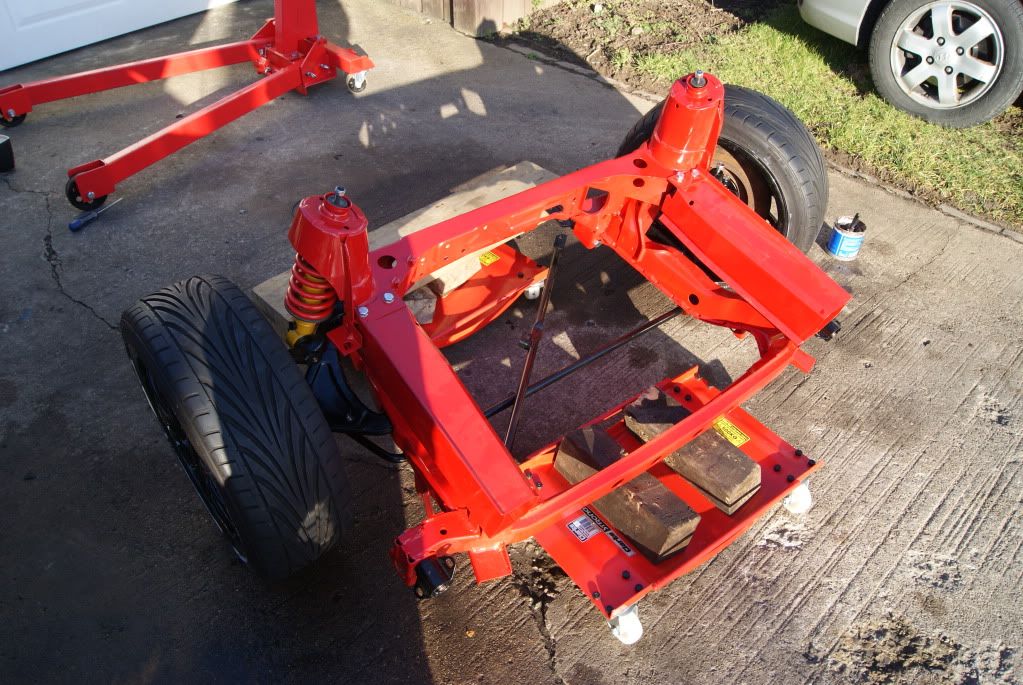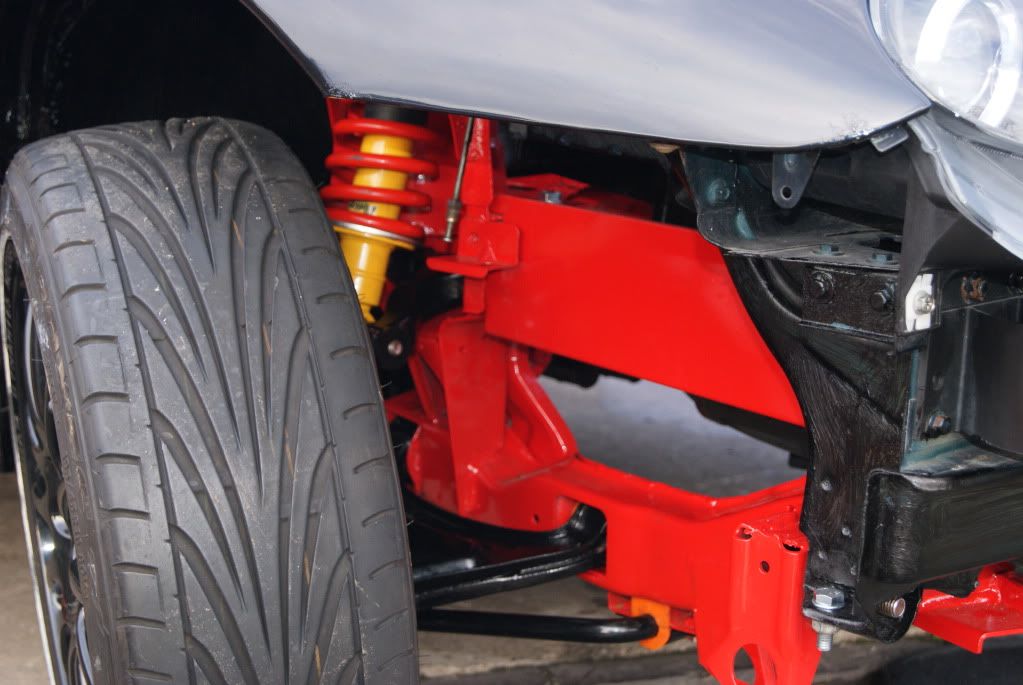 Engine in (during the build, I will get more pics)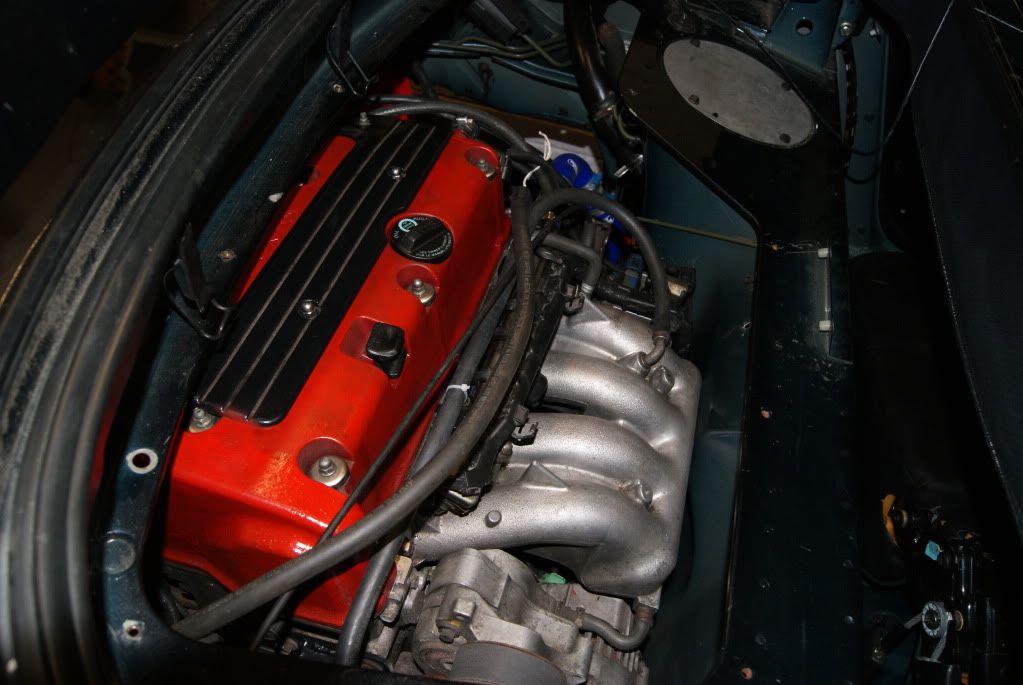 Here are the details of the work done:
Preparation Work
Subframes Sandblasted to bare metal and painted
Every pice of suspension/brace-bar Blasted and powder-coated (all except the rear trailing arm and rear upper arm which have integrated bushes, the P/C process would burn the bushes so these were wire brushed and painted.)
Car body, fully undersealed
Suspension/running gear
Every nut and bolt on the running gear is brand new
Every bush bar the rear upper arm bushes and the Rear trailing arm bolt guide bushes replaced with polybushes from Polybush
Front lower ball joints replaced
Front Upper ball joints replaced
Rear upper ball joints replaced
Front TREs replaced
Rear TREs replaced
Compliance bushes replaced (new housings too)
Bearings replaced in all 4 wheel hubs
Fitted with standard dampers and X-Power springs (Coilovers are avalible for mega lows, but it handles like a dream as is)
Front Upper arm bareings replaced with full kit.
Thats every wareable item on the car
Brakes
Front Calipers are 4pot from AP-Racing
Front brake pads - Mintex
Rear pads - EBC Greenstuffs
Wheels/Tires
Wheels - Team Dynamics 1.2r Pro Race super lights
Tyres - All 4 are brand new Toyo T1Rs
Engine and conversion
Subframe from Woodsport. Has a Strut brace, tower gussets and 4 massively over engineered mounts.
Engine/Gearbox with all ancillaries from a 2002 UK Spec Civic Type R
Gearbox has a Limited slip diff of some kind, thats a few grands worth!
Clutch is up-rated, looks like an exeedy item
Spark plugs are HKS
Air filter is CDA carbon fiber
Exhaust needs a new back box fabbing up as it's a custom job for now, using a OEM TF back box...
Manifold is top notch and 2.5"... needs a back box to match
Custom Gear selector cables
Adapted Throttle cable
Coolant hoses are all custom, the main hoses are Samco
Driveshafts - custom, use Civic Inners and MGTF outers
New thermostat cost me £45 and a new genuine Honda Alternator belt was about £15
Oil Filter re-location kit
K-Pro ECU - fully programmable and ready for Nos/Supercharger/Turbo or whatever else you fancy!
Interior:
To be fair this is the only area of the car lacking... but you can do that to your own taste, it's basically standard
I've got a grenadine dash in but have the black one too... nothing is bespoke here, the clock pack (bar the water temp gauge) all works as normal so no need to mess on! the clock pack needs replacing though as it says Adam-MGTF on it, but i'll do that at my cost
S2000 start button
Exterior:
MGFmania glass rear screen in red to match roof, this is great because A: its heated and B: you dont need to un-zip it to flip the roof down!
This thing drives like you wouldn't belive, and would make a perfect daily drive with an animal side, or a track day car, or anything in between!
The car is the only one of it's type, and the massive amount of work done to the running gear on the car make it drive better than new! It's already been Reader Car of the month in Banzai (before it was even finished) and MGE magazine want a cover feature on it!
Read my project thread, it speaks for itself!