MG's Gao Yun Hang: A-class car platform will be completed and put into operation next year
http://auto.sohu.com/20081215/n261208068.shtml
Changsha for the second time this hearing to attend the auto show Changsha MG and Mercedes-Benz, Audi, and so on appear on the same stage, but in no way inferior to the limelight of these luxury brands, at times reportors must abandon pass through the audience, stand attendance were steaming hot.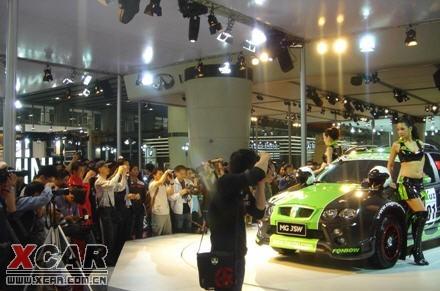 "Auto Changsha in the central provinces have formed a leading effect of the various manufacturers are all very much, and this has given manufacturers in the sprint at the end of sales, display an excellent opportunity to test their abilities.
MG landing in Hunan has been a year in Hunan have a direct impact on the development of the entire MG central area of development, so we very much value in Hunan Province. "MG Market Public Relations Deputy Director Gao Yun Hang in an exclusive interview with our reporter said.
Changsha this auto show, MG carry the entire line of cars appeared, including the MG7, MG 3SW, as well as in home-drive sports car after TF, a powerful lineup ever, full of rich, "the charm of England."
Manmandangdang looked at different models of the booth, Gao Yun Hang deep feeling: "MG the sales is about 1300 the stability, especially with the Hunan Power-day trade was particularly eye-catching performance."
Not long ago, in 2,566,000,000 yuan of investment into Shanghai, Nanjing Pukou at the MG second phase started. Gao Yun Hang said, MG second phase of the project includes the development of a new A-class car platform and supporting the development of a new series of small engines, will be completed and put into operation in 2009. "After the completion of the project will have 167,500 new vehicles containing products, including an annual production capacity of 200,000 cars and 250,000 engines production capacity."
"When the new round of economic growth comes, we will be standing on a high ground." Automobile market forecast for next year, Gao Yun Hang cautious and optimistic, "automobile market next year might be zero growth or negative growth, but the MG, a substantial growth, which is Because of our existing products has gone through thick plot. Next year will usher in a mass outbreak. " - Bureau reporter Yu-chi